TiBB Christmasvision Song Contest 2015
Move Along
Dates
Final date
23 December 2015
Voting results date
24 December 2015
Host
Venue
Telenor Arena, Bærum, Oslo, Norway
Presenter(s)
Rudolph
Augustine
Director
Shaun
Executive supervisor
Shaun
Executive producer
Shaun
Josiah Stuart
Broadcaster
Participants
Entries
27
Returning
Andorra
Monaco
Serbia
Withdrawing
Australia
Bulgaria
Voting
System
Each country/jury awards 12, 10, 8–1 points to their top 10 songs; whilst the 5 judges ranked the songs from 1-27, with each judge awarding 27-1 points to the songs.
Winner
Gibraltar
"G-O-D"

TiBB Christmasvision Song Contest

◄ 2016 ►
The TiBB Christmasvision Song Contest 2015 was the 8th edition (2nd Christmasvision) of the annual TiBB Eurovision Song Contest musical event. The contest took place in Oslo, Norway, following Mokkajava's victory in the TiBB Eurovision Song Contest 2015. The contest will consist of a final, which will took place on 23 December 2015; and a voting results show on Christmas Eve, the 24th of December 2015. The shows were presented by Rudolph and Augustine.
This year, like the past few years; Rudolph and Augustine returned to host the contest, this year in Oslo, Norway; after Mokkajava won TiBB Eurovision Song Contest 2015 in Valletta, Malta.
The competition consisted of 1 grand final and 1 voting results show, a format which has been in use since the start of the TiBB Eurovision Song Contest. This year, both shows were simulcast on YouTube.
Running order
Edit
The final running order of the competing performances at the final will be decided by Shaun; days or hours before the contest begins.
Graphic design
Edit
This year's graphic design was a bird made of flower petals with the wings spread out. The main Christmasvision logo had also gone under a slight redesign. That was the first TiBB Eurovision or Christmasvision with a scoreboard made by Josiah.
The following TiBB members were the 5 judges in the TiBB Christmasvision Song Contest 2015.
Shaun
Niamh.
SuperV
_LucasMichael_
Tom*
Participants
Edit
A record breaking 27 countries participated this year, breaking the record of 23 set back in May 2015. The running order of the final was released on 22 December 2015. Each country was represented by a member of the forum on ThisisBigBrother.com by their own choice. This year, countries that are not in the main contest are participating (i.e. Gibraltar). Australia withdrew for Christmasvision this year, althought it will return in May 2015. Andorra, Monaco, and Serbia; returned this year; which means they could be represented again. Unlike the main contest (like the Junior Eurovision Song Contest), there is only one show; held either the week before or after the main contest's Grand Final has been held.
Finalists
Edit
NOTE:      means that a country has won.
NOTE:      means that a country has come in 2nd place.
NOTE:      means that a country has come in 3rd place.
NOTE:      means that a country has come in last place.
| Draw | Country | Artist | Song | Place | Points |
| --- | --- | --- | --- | --- | --- |
| 01 | Slovakia | No Way Sis | "Half the Forum are Banned" | 25 | 47 |
| 02 | Romania | Jadele | "An Ode to Marsh'" | 3 | 203 |
| 03 | Serbia | Sissy Elliscott | "Wurkit" | 4 | 179 |
| 04 | United Kingdom | MC Josh and MC LucasMichael | "Broadband Warriors" | 21 | 69 |
| 05 | Netherlands | In Vogues feat. that band from Jules Holland | "No Feckin' Fairytale 'n Cork" | 9 | 136 |
| 06 | Norway | Kirklancaster and The Lancaster Bombers | "One More Thread" | 17 | 94 |
| 07 | Italy | MOD ALOUD | "Don't Make Me Infract You" | 23 | 38 |
| 08 | Croatia | DJ Jamie | "Fight for The Man in the Mirror" | 22 | 61 |
| 09 | Gibraltar | Johnnyuk123 | "G - O - D" | 1 | 243 |
| 10 | Greece | Chocolate Smartie | "TIBB Shady" | 16 | 95 |
| 11 | Cyprus | Robin Romanos | "Who Is Thee?" | 18 | 84 |
| 12 | Spain | Mariah Michael | "All I want for Christmas is Drew" | 5 | 177 |
| 13 | Andorra | Kirk & Kizzy | "Fairy Tale of Serious Debates" | 12 | 126 |
| 14 | Sweden | Mystic Mock ft. gamepodfan | "Mock's Dinner" | 6 | 166 |
| 15 | Luxembourg | Mockman McMockymock | "Trolley of the Lake" | 19 | 81 |
| 16 | Iceland | Quizabella | "Log On To TiBB You Fool" | 15 | 97 |
| 17 | Israel | The Netanyahoos | "Last Christmas... A Song for Ben" | 8 | 143 |
| 18 | Monaco | Eamonn and Ruthee | "Fuck It (This Morning's Back)" | 7 | 159 |
| 19 | France | Mathéo Duret | "So This Is TiBB" | 27 | 20 |
| 20 | Turkey | Alda Trimmings | "A Brief Run-Down of the Current Complex Global Political Situation, Conveyed via the Medium of Modern Pop Music" | 11 | 135 |
| 21 | Denmark | Josiah Stuart | "Ignite the Puzzle" | 13 | 124 |
| 22 | Macedonia | Bonqueisha Harrison | "Til CBB's Over" | 24 | 48 |
| 23 | San Marino | gamepodfanassanmarino | "Ban Me Baby One More Time" | 26 | 28 |
| 24 | Russia | The Slug Princess | "Colours of Death" | 2 | 214 |
| 25 | Lapland | David Cameroink | "Pig Talk" | 10 | 136 |
| 26 | Ireland | Waterhogs Christmas Choir | "Trumpet The Hard Nosed debater" | 14 | 102 |
| 27 | Liechtenstein | Brush Ha | "Hair" | 20 | 73 |
Participating members (in alphabetical country order)
Edit
Dezzy - Andorra
Jamie89 - Croatia
Loukas - Cyprus
Josiah. - Denmark
Jack - France
Johnnyuk123 - Gibraltar
kirklancaster - Greece
Amy Jade - Iceland
Niamh. - Ireland
Livia - Israel
LukeB - Italy
Drew - Lapland
Benjamin - Liechtenstein
Nathan - Luxembourg
Heaven = Winner - Macedonia
Shaun - Monaco
Ammi - Netherlands
Mokka - Norway
Jay. - Romania
Dollface - Russia
gamepodfan - San Marino
Z - Serbia
Adam. - Slovakia
Jake. - Spain
Tom* - Sweden
MB. - Turkey
Jøsh -

United Kingdom
Voting results
Edit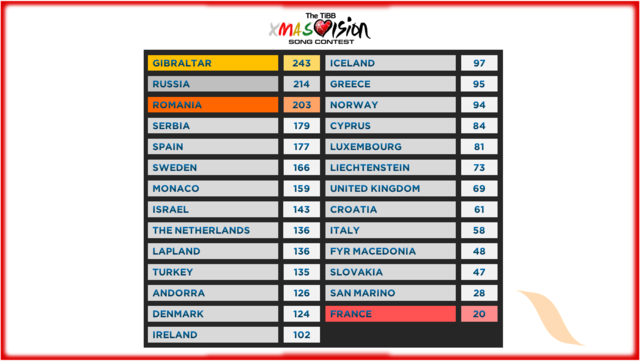 International voting
Edit
Voting Spokespersons
Edit
Denmark - Josiah Stuart

United Kingdom

- Jøsh
NOTE:
Extra videos & stuff
Edit
External links
Edit

TiBB Eurovision Song Contest
Countries (that are currently active in the TiBB Eurovision Song Contest)
Australia • Bosnia & Herzegovina • Croatia • Czech Republic • Denmark • Estonia • France • Greece • Iceland • Israel • Italy • Latvia • Lebanon • Norway • Portugal • United Kingdom • Vatican City
Contests
2008 (Elimovision) • 2009 • 2010 • 2011 (Globalvision) • 2012 • 2013 • 2014 • Xmas 2014 • 2015 • Xmas 2015 • 2016 • Xmas 2016 • 2017 • Xmas 2017 • 2018 • Xmas 2018
Winners (Winning Country)
MarkWaldorf (Switzerland) • \PJ/ (United Kingdom) • Shaun (Austria) • Mollie. (Australia) • Dezzy (Vatican City) • Ammi (Lithuania) • Niamh (Ireland) • Shaun (Malta) • Mokkajava (Norway) • Johnnyuk123 (Gibraltar) x2 • Jake (Poland) • MB (Monaco) • Shaun (Belarus) • Kirklancaster (Greece) • ? (TBA)